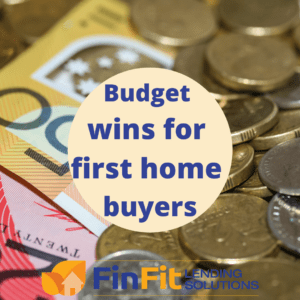 2020 Budget wins for first home buyers
There has never been a better time for first home buyers to enter the property market.  With record low interest rates, first homeowner government schemes and tax cuts as announced at the 2020 Federal Budget.
Let's start with the 2020 Budget:
While watching last night's budget there were two main points, I noted that will significantly benefit first home buyers.
The first being the release of another 10,000 spots for the first home loan deposit scheme. The scheme commenced on the 1st January 2020 and has helped nearly 20,000 Australians purchase their first home. The First Home Loan Deposit Scheme is an Australian Government initiative to support eligible first home buyers purchase their first home sooner. Usually first home buyers with less than a 20 per cent deposit need to pay lenders mortgage insurance. Under the Scheme, eligible first home buyers can purchase a home with a deposit with as little as 5 per cent (lenders criteria also apply). This is because the National Housing and Finance Investment Corporation (NHFIC) guarantees to a participating lender up to 15 percent of the value of the property purchased that is financed by an eligible first home buyer's home loan. The maximum purchase price on the first home loan deposit scheme is also being increased in each state. In Qld the limit has increased from $475,000 to $650,000 for the city and regional centres and the rest of the state from $400,000 to $500,000.
The 2020 budget will also bring forward tax cuts. This will see many Australians get extra cash in their pocket which can help you to reach your first home even sooner. If you earn between $60-80K you will pocket roughly an extra $2160 a year. See below a table outlaying the tax cuts.
"More than 11 million tax payers will get a tax cut backdated to 1 July this year" Josh Frydenberg – Treasurer
Existing Grants:
On top of the 2020 Budget announcements there are also the following grants in place to help you purchase your first home –
Home Builder – Home Builder provides eligible owner-occupiers (including first home buyers) with a grant of $25,000 to build a new home or substantially renovate an existing home. Home Builder will assist the residential construction market by encouraging the commencement of new home builds and renovations. Some lenders such as St George and Westpac are now also allowing you to use these funds for settlement if you are conditionally approved with the office of state revenue.
First Home Owners Grant – The Queensland First Home Owners' Grant is a state government initiative to help first home owners to get their new first home sooner. You can get the Queensland grant of $15,000 towards buying or building your new house, unit or townhouse (valued at less than $750,000).
A working example:
A first home buyer couple are looking to purchase a brand-new three-bedroom house and land package for $595,000. The clients have $30,000 in savings and are eligible for both the home builder grant and the first homeowner grant which will give them an extra $40,000 in funds. The applicants have also secured a first home loan deposit scheme spot to avoid paying lenders mortgage insurance.  
The applicants will have a loan of $550,000 to give themselves a cash buffer approximately $9,000. They have been offered a fixed rate of 2.29% for 2 years which will make their monthly repayments $2,114 or $488 a week.  They were previously paying $500 per week rent. They can now pay the same amount off their mortgage and not their landlord.
If you would like more information on how you can buy your first home, please give us a call.