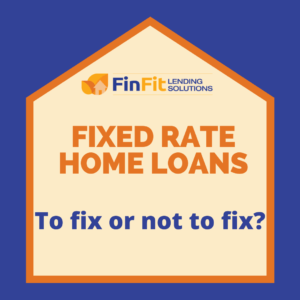 To fix or not to fix? All you need to know about fixed rate home loans.

Fixed rates are currently stealing the spotlight.  From mid-March, fixed rate home loan rates have dropped to be lower than variable interest rates on average, possibly triggering a significant change in our mortgage market.
With the Reserve Bank stating it will not lower the cash rate below the current rate of 0.25%, it would be safe to assume that interest rates are as low as they can go.
Is now the time to fix?
Why should I consider a fixed rate?
A fixed interest rate home loan is a loan where the interest rate does not change during the fixed rate period of the loan. This allows you to accurately predict your future payments. Variable rate loans, by contrast, are anchored to the prevailing discount rate.
Often people consider fixed rates for their loans as if offers a sense of certainty.  It does this as your repayments are set for the fixed period and allows you to budget around your loan as you know what you will be paying. Although fixed rates offer that certainty there are multiple pros and cons.
What are the pros and cons?
Pros 
The interest rate may be lower than variable (that is the current state of play with most lenders)
Makes budgeting easier as you know what your repayments will be
Fewer loan features could cost you less in bank fees
If rates increase your rate stays the same for the duration of the fixed period
Cons 
You will not get the benefit if interest rates go down
If you need to repay or change your loan, there will be break costs
There is no redraw facility available
Most banks do not allow a 100% offset account linked to the loan
You are limited by the amount of extra repayments you can make
What if the rates change before my loan settles?
Banks offer a feature called rate lock. This is where you can lock in the interest rate at the time you are lodging your loan in return for a fee. The benefit or rate lock is you are locking in the agreed rate when you apply for the loan. There is a fee for this feature, so it is good to speak to a Mortgage Broker to fully understand.
Benefits of fixing your loan:
Fixed rates are currently at an all time low with some lenders offering as low as 2.09% fixed for two years. Fixing your loan comes with benefits such as knowing what your repayments are going to be for the set period. This offers a sense of certainty for some, as variable rates can go up and down throughout the life of the loan while you know what you are going to be paying for the fixed period no matter what happen to rates.
Negatives of fixing your loan:
While fixed rates offer you the certainty of knowing what you will be repaying, if interest rates decrease you are left paying a higher rate then if it were variable. They also do not allow you to make extra repayments over $10,000 or you are charged penalties. Lenders will often not allow you to redraw from the loan and typically they do not come with an offset account. During your loan term if for some reason you need to break the loan you can do so you will just incur a break fee which depends on how long you have left on your loan and how much you still owe.
You can also choose to fix a part of your loan and have a part variable. This will give you the best of both fixed and variable.
I am always here if you want to discuss if fixing is the right solution for you so please pick up the phone and give me a call.
Rhys.